Crazy Aaron's Thinking Putty
Crazy Aaron's Thinking Putty
This amazing putty started out as a desk toy/stress reliever for adults but children soon realised they were missing out on all the fun! Thinking putty comes in many guises including - heat sensitive colour changing, magnetic, glow-in-the-dark and UV reactive. Grab some stress relieving, hand exercising, mind expanding, totally fun and addictive Thinking Putty!

Crazy Aaron's 'Cosmics' Thinking Putty

Merriam-Webster defines cosmic as 1a: of or relating to the cosmos, the extraterrestrial vastness, or the universe in contrast to the earth alone, 1b: of, relating to, or concerned with abstract spiritual or metaphysical ideas; 2: characterised by greatness especially in extent, intensity, or comprehensiveness <a cosmic thinker>. Inspired by the vast mysteries of Earth's greater context, Cosmic Thinking Putty is out of this world.

Crazy Aaron's 'Hypercolour' Thinking Putty
These 'Hypercolour' putties change colour with heat so get kneading! If however you are like me and have cold hands, then the heat from a warm mug of tea will suffice ;-) Hypercolour putty is available in large and small tins.

Crazy Aaron's 'Super Illusions' Thinking Putty
These 'Super Illusion' putties morph colours right before your eyes. The colours shift depending on the angle of the light hitting them. To see the full effect, take them outside on a bright day! Super Illusion putty is available in large and small tins.

Crazy Aaron's 'Super Magnetic' Thinking Putty
'Super Magnetic' putty behaves just like any other Crazy Aaron putty - that is until you charge it with the included magnet. Once charged, the putty will attract from one magnetic pole and repel from the other. Available in large tins only.
Watch the following video for some hints and tricks https://www.youtube.com/watch?v=DBrkHgpTBA4

Crazy Aaron's 'Phantoms' Thinking Putty
'Phantoms' thinking putties react to UV light. Take them outside into the sunlight and watch them change colour. Bring them back indoors and they will revert to their original colour. Phantoms also come with a blacklight torch which you can use to write and draw on your putty with. If that wasn't enough, phantoms also GLOW in the dark! Phantom putty is available in large tins only.

Crazy Aaron's 'Glow In The Dark' Thinking Putty
Expose these 'Glow in the dark' putties to light (the brighter the better) and then in a dim room, watch them glow. Glow in the dark putty is available in large and small tins.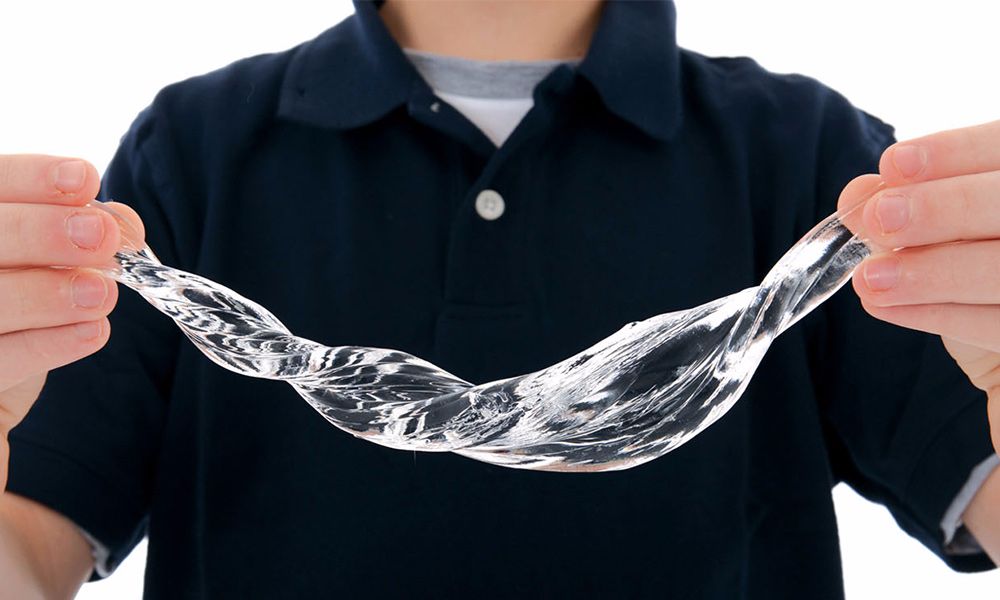 Crazy Aaron's 'Liquid Glass' Thinking Putty
So clear that you will think that the tin is empty! Liquid Glass develops a cloudy appearance when played with but it soon returns to clear when you put it down again. Unlike the other putties, Liquid Glass will flow completely into a puddle on its own. Why not try embedding some coins or small action figures for extra fun!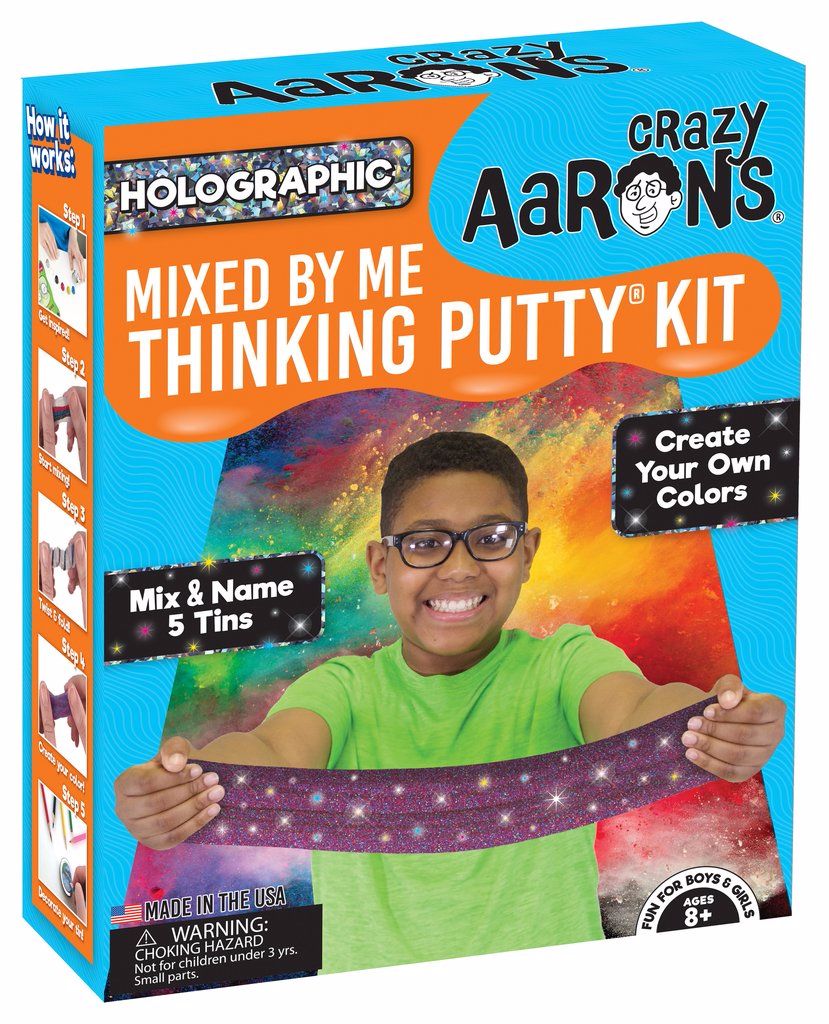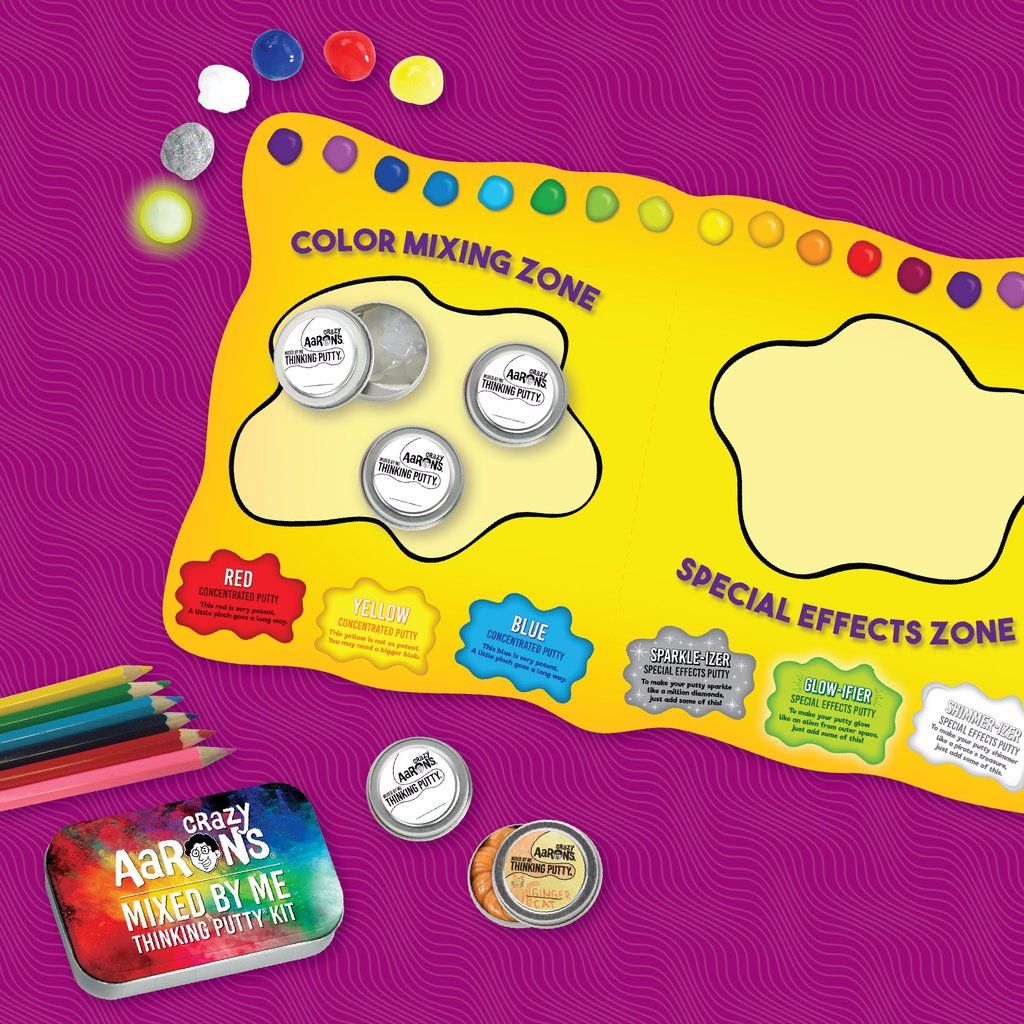 Crazy Aaron's 'Mixed By Me' Thinking Putty Kits
Create your own custom-coloured Thinking Putty with our Mixed by Me Kits. Each kit includes everything you'll need to make cool Thinking Putty colours that are all your own.The GLOW kit comes with three special effect Thinking Putty packs, including the magical glow putty. The HOLO kit will amaze you with three sparkle effect putties including the signature holographic formula.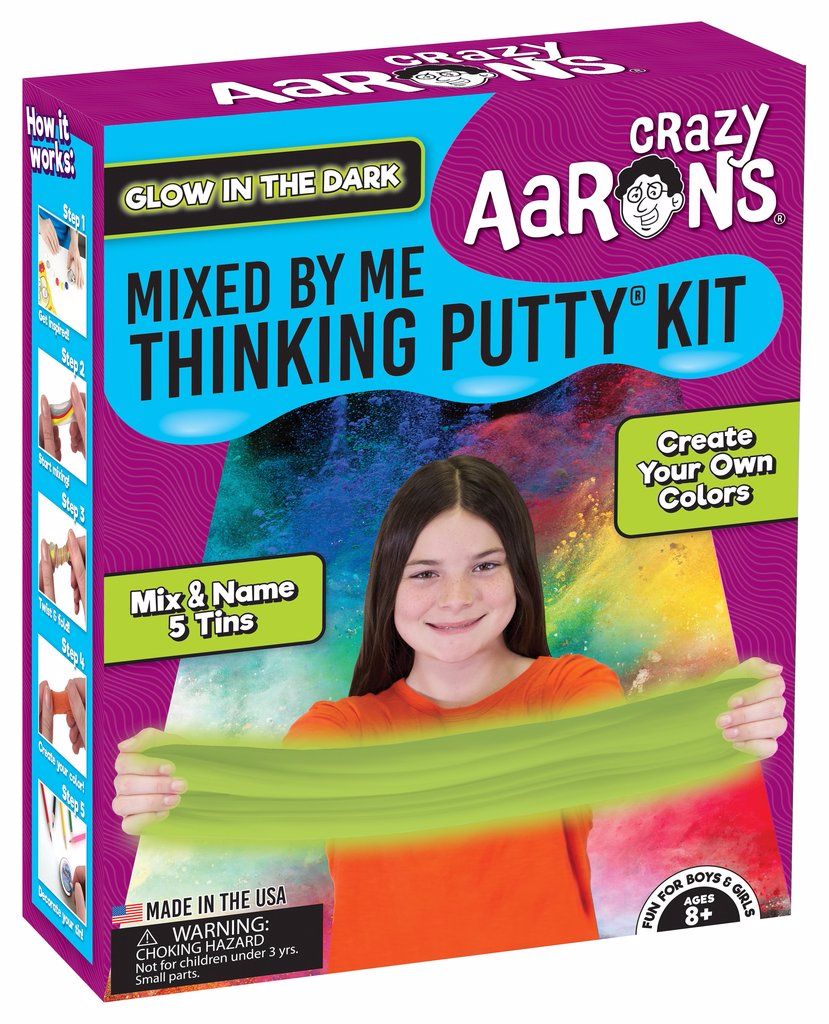 Crazy Aaron's 'Christmas' Thinking Putty
Jingle all the way! Make the season merry and bright with Jingle Thinking Putty. Inspired by the cheerful feeling that sleigh bells bring, it's just as charming with shimmering silver, gold, red, and green sparkles. Power it up with the included Glow Charger™ and it will glow a festive red in the dark. 10cm tin
Evergreen is a forest green putty with a hint of snowy sparkle. This scented putty smells just like a frosty pine tree! 5cm tin
Ornament is a deep, shining red with golden glitter shimmering throughout. It includes a hangtag so you can hang it right on the tree! 5cm tin
Icicle is a glimmering light blue putty infused with icy shine. A reissue of a 2002 favourite, it glows light blue in the dark and comes in awesome "throwback" packaging! 5cm tin
Gelt Thinking Putty is a fun take on the traditional Hanukkah gift. Made with a sprinkling of real 24K gold, this mini version is perfect for giving! 5cm tin